Medication therapy is part of 80% of all treatments, so it's no surprise that it represents a large percentage of healthcare spending, as much as $535 billion in 2020, roughly 12.5% of the $4.1T total annual healthcare spend or 2.6% of the US GDP. And yet the desired outcomes from safe and effective medication therapy have yet to be fully realized. Up until recently, comprehensive medication management remained unwieldy and unscalable.
As a result non-optimized medications, or medications that are not safe and effective for patients' unique and evolving health needs, were estimated in 2016 to cost $528 billion in avoidable healthcare utilization, including physician visits, emergency department visits, hospital and long-term care admissions, and avoidable deaths. Those healthcare costs now likely exceed $600 billion in 2022.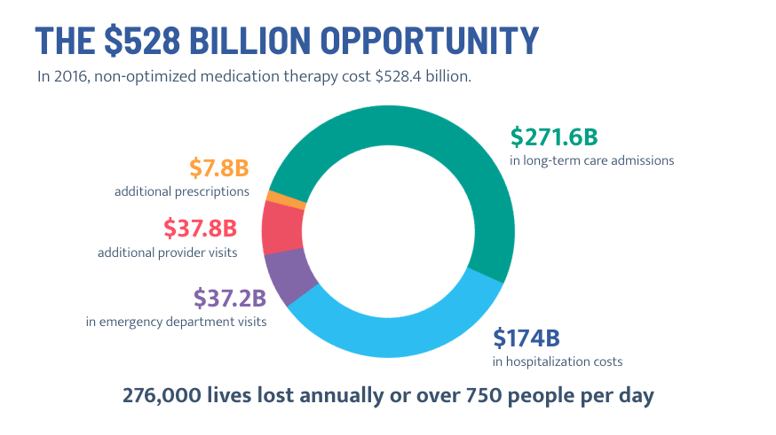 To personify the problem of non-optimized medications, meet James. James is a real patient with a history of diabetes, stroke, and leg amputation.
He took 16 medications plus 5 insulin shots daily. He regularly skipped his medication refills because he couldn't afford to pay for them and as a result, he couldn't keep his blood sugar under control.
James was at risk for life-threatening complications and desperately needed a stent but couldn't have the operation until his dangerously high blood sugar was controlled.
Like James, an estimated 40% of older Americans take more than five medications daily. Medication-related problems are responsible for up to 20% of all hospital admissions in this population.
Fortunately, James' health plan enrolled him in a comprehensive medication management (CMM) program that helped him achieve his health goals (more on that in a minute). Experts recommend comprehensive medication management to help patients like James achieve their goals of therapy and reduce the staggering cost of medication-related problems. But what is comprehensive medication management, how is it different from medication therapy management (MTM), and does it actually drive outcomes?
What is comprehensive medication management?
Comprehensive medication management is a patient-centric approach to managing medication. The components of comprehensive medication management encompass more than just improving adherence to therapy. It also includes evaluating the appropriateness of drug therapies, assessing their safety, counseling on proper use and adherence while also considering costs.
The care team addresses medication-related gaps by identifying the most effective and safest combinations of medications and dosages, improving access to care while enhancing health literacy and appropriate adherence.
As a result, CMM significantly decreases the total cost of care — not just medication cost — and optimizes both patient and clinical goals of therapy.
Now back to James. After his health plan enrolled him in a comprehensive medication management program, James' care team identified how to get him on the safest, most effective medications for his health and financial needs. His prescription costs are lower, saving him money every month and helping him afford all his meds. His care team connected him to health plan resources to get his blood sugar test strips free. As a result, he was able to control his blood sugar and have a life-saving stent operation.
What's the difference between CMM and medication therapy management?
But what about medication therapy management (MTM)? Aren't CMM and MTM just referring to the same process?
There are actually several differences between the two services — the focus area, the coordination of care, reimbursement for services, the processes, and the outcomes.
The focus area
MTM is a medication-focused service and ultimately, a process measure centered around checking the box to confirm a comprehensive medication review (CMR) was completed. During MTM, care team members evaluate current medications, address medication adherence issues and create an updated medication list. Quality and cost of care are not factored into the success of an MTM program, and the focus is completing as many as possible.
CMM is patient-centered therapeutically focused program focused on care quality and cost of care improvement. CMM involves an additional layer of review of the medications in the context of the whole patient. It takes into account past medications and how the patient experienced them. It also involves reviewing labs, tests, and clinic notes. With that information, the care team evaluates the effectiveness, appropriateness, safety, and affordability of medications.
Care coordination
CMM programs work to support coordinated care for a patient, going beyond medications to connect them with the right care for their needs (clinical, social, and behavioral dimensions, including transportation services, mail delivery prescriptions, follow-up doctors appointments, and more). In addition, a care team providing CMM will also coordinate with a patient's prescribers to recommend care plan and medication therapy updates.
Reimbursement
Centers for Medicare and Medicaid Services (CMS) require MTM under Medicare Part D. As a result, the service is covered by all Medicare Part D plans.
CMM is not a requirement from CMS. However, it can improve patient health outcomes, quality of care, and cost of care.
The process
Patients targeted for MTM are identified based on the criteria set by CMS, which includes targeted chronic medical conditions, the number of medications they take, and the cost of their medications. As part of MTM services, patients receive a yearly CMR. During the CMR, the pharmacist performs a medication therapy review, makes recommendations on drug therapy problems they identify, and generates an updated list of medications and a medication-related action plan. After the CMR, patients receive up to four quarterly follow-up targeted medication reviews.
On the other hand, CMM targets patients based on patient risk factors (rising or high risk), progression toward condition management, and goals of therapy. In a CMM program, patients that are not achieving their goals of therapy after the first intervention will receive regular follow-up that is not dependent on a predefined schedule, but when patients have clinical need for a follow-up.
Outcomes
MTM outcomes are focused on completing a set of actions to meet CMS requirements that may have little impact on patient outcomes or cost of care reduction. CMM focuses instead on clinical and economic outcomes. All CMM interventions are triggered based on the patient's health and are not performed just to check a box.
What is the CMM process?
The CMM process includes the 10 following steps illustrated with the use case of a patient with uncontrolled hypertension.
Steps

Use Case

1. Target the correct patients. These patients have not achieved the clinical goals of therapy.

A patient with uncontrolled hypertension and recurrent hospital admissions may be at risk for medication-related problems and could benefit from CMM.

2. Obtain the full patient medication history. This includes medications that the patient was taking in the past and the ones they currently take. It includes what their preferences, needs, and beliefs are in regards to their treatment. This also includes what their experience is with their medications.

The patient with hypertension may have experienced adverse drug reactions with their medications and decided to stop taking them.

3. Uncover how patients use all of their medications. This includes prescriptions, OTCs, and supplements.

The patient may have skipped some refills or tried to find an OTC supplement to replace their prescription.

4. Assess each medication. During the assessment, review medications for appropriateness, effectiveness, safety, and adherence.

The care team needs to assess each medication and identify if the medication is the safest and most effective for the patient based on their unique and evolving health needs.

5. Identify all patient's medication-related problems such as inappropriate medications, drug interactions, medication adherence issues, adverse drug reactions, and medication costs.

The patient may have stopped taking their dihydropyridine calcium channel blocker because they experience uncomfortable pedal edema. They may not be able to afford the new anticoagulation medication they were prescribed after their last hospital admission. And they may have started to take St John's wort to try managing the symptoms of depression they began to experience.

6. Create an individualized care plan that contains your intervention and the patient's goals of therapy.

For the patient with hypertension, this means:

Optimizing their medications doses.

Discontinuing inappropriate medications

—

stopping the calcium channel blocker and advising the patient to stop St John's wort.
Starting new ones — starting the patient on a different hypertension medication

Coordinating care with the PCP - informing the PCP that the patient has been experiencing depression symptoms and recommending an assessment.

Addressing cost issues — connecting the patient to programs that allow him to get his anticoagulant at an affordable price or changing his medication to a more affordable one.

7. Educate the patient on the care plan. The plan is also communicated to the prescriber.

The patient should be educated about their new medications, any lifestyle changes needed to help them reach their goals, how often they should monitor their blood pressure and what their numbers mean.

8. Document all steps.

Documentation should include the care team's assessment, the patient's current health status, the medication-related problems you identified, the care plan, the goals of the therapy, and the education and resources you provided to them.

9. Follow-up. This is critical to evaluate the actual economic and clinical outcomes from the interventions and recommend further therapeutic changes as needed. Follow-up time should be documented in the care plan and happen in a clinically appropriate time.

For example, the patient could get a follow-up phone call within a week to ensure that recommendations were implemented and again if the clinician notices the patient is non-adherent to the medications.

10. Repeat. CMM is an ongoing patient care process. The patient condition evolves and needs to be reassessed regularly.

For the patient with hypertension, the care team should provide ongoing monitoring to catch any future medication-related problems before they happen to ensure that the patient continues to reach their goal of care.
Benefits of comprehensive medication management
Any healthcare program should have real benefits for patients and the health care system at large, and comprehensive medication management is no exception. The great news is that CMM works and helps plans and providers deliver personalized care to patients.
Improved access to care
CMM programs break down barriers to care, improving access and availability. In one Department of Veteran Affairs study published in American Health & Drug Benefits, when clinical pharmacists providing CMM were integrated into care teams, veterans had increased access to healthcare and less time spent waiting to get an appointment.
Arine was able to provide this level of access during the pandemic. One Arine health plan client supports vulnerable populations in a heavily populated city. Working with Arine, the plan was able to provide patients with preventative care even though many doctors' offices were limiting in-person appointments.
Improved quality of care
Comprehensive medication management improves quality of care for patients. A common challenge of caring for patients with chronic diseases is therapy inertia — when medication therapy should be adjusted, but it's not. For example, in the case of patients with hypertension, one study showed that in patients with hypertension, providers increased medication doses in only 13% of patients who qualified. Even though their needs changed, their medication therapy didn't.
CMM allows clinical teams to identify medication-related problems and address them. By doing so, it helps health plans improve their quality measures, increase their quality rating, and receive higher quality bonuses as a result.
Improved health outcomes
Improved quality of care leads to improved health outcomes. Studies have shown that CMM reduced rates of uncontrolled diabetes, decreased medication-related readmission rates in patients older than 65 years, and increased the rate of patients with diabetes, hypertension, and hyperlipidemia reaching their treatment goal.
For example, Arine's AI-enabled comprehensive medication management reduced readmissions by 47% for a state health plan by prioritizing interventions, implementing them promptly, and removing barriers to access to care.
Reduced costs
In addition to improving health outcomes, CMM also affects the cost of care. A study found that CMM brought a 12:1 return on investment by reducing healthcare utilization. Another CMM program saved an estimate of $6.6 million in prevented readmissions.
Arine consistently delivers a 6:1 to 18:1 return on investment for its clients. For one patient, the program was able to save $4,310 in 3 months, resulting in projected annual savings of $18,690.
CMM services can also bring additional direct revenue. One literature review showed that CMM increased direct revenue and market competitiveness.
Improved patient satisfaction
Another benefit of CMM is that it improves the patient experience. Studies have shown that the majority of patients enrolled in CMM report high satisfaction scores. Patients find CMM services helpful and report they would refer their friends and family.
Arine has helped health plans achieve higher member satisfaction. The program scored a Net Promoter Score (NPS) of 94, meaning patients were more likely to recommend it to their friends.
Barriers to comprehensive medication management
While CMM has powerful benefits, implementing it isn't completely without obstacles.
Identifying at-risk patients
Finding patients who may be at risk for medication-related problems is a time-consuming task. In many cases, care teams are required to review data extracts from disparate systems or spreadsheets to manually identify which patients to target.
Synthesis of multi-dimensional data
Most medication programs only analyze pharmacy data without considering the medical risk factors as well as social determinants of health. This leads to very limited interventions, such as drug-drug interactions, and may inadvertently lead to the wrong interventions.
Provide patient-centric care
Patient engagement can be difficult to achieve at scale for care teams, but their ability to activate patients will impact the success of a CMM program. Patients are often concerned about the side effects of their medication, the reason the medication was prescribed, and the cost of the medication. If a care team struggles to connect with patients and overcome their concerns, all the benefits of CMM may never be realized.
Care coordination
Collaboration between a patient's care teams often doesn't happen because providers and plans don't have a scalable infrastructure and the technology to support coordination between teams. Without this infrastructure or advanced technology, care teams experience major blind spots that make it impossible for them to optimize all of a patient's medications.
Cost of implementation
Implementing CMM may require high upfront costs as care teams have to be expanded to support patients with personalized care.
Lack of scalability
Comprehensive medication management programs typically require significant time investment for each patient and are difficult to scale to large patient populations. Analyzing data, creating personalized care plans, reaching out to patients, communicating with prescribers, and following up with the patient and their doctors takes time, and without the proper technology, a large clinical team.
How to streamline CMM
Fortunately, technology has advanced to overcome many of these barriers. Comprehensive medication management powered by AI has the power to deliver health and economic outcomes for patients, providers, and health plans. Here's how.

Identify at-risk patients through predictive analytics
Advanced predictive analytics allows care teams to proactively target the right patients – patients who are at risk due to their complex medical history, and need intervention. CMM services for these patients will bring the highest return on investment.
Create a comprehensive patient picture
CMM requires multidimensional data (clinical, social, and behavioral) to understand the full picture of the patient. Arine collects data that creates a 360-degree view of the patient, analyzes the data, and develops a personalized care plan based on the patient's unique and evolving health needs.
Improve scalability and reduce costs with automation
Automation increases the scalability of CMM. Arine automates many CMM tasks that previously required a large workforce, reducing the need for and cost of a large care team.
Additionally, automation enables the existing care team to spend less time on administrative tasks and more time counseling patients and coordinating with other care teams. Arine automates the creation of care plans and seamlessly integrates them into existing workflows. The platform connects patients, providers, pharmacies, and plan services in a user-friendly dashboard while giving care teams access to all relevant current clinical guidelines at their fingertips. As a result, Arine's clients see a 6:1 or greater return on their investment in CMM.
Continuously improve CMM interventions with machine learning
Machine learning helps care teams continuously improve their programs and deliver interventions that are the best fit for their population. Arine's medication intelligence platform continuously measures the result and impact of each intervention to improve future care. By understanding which interventions lead to improved outcomes, Arine can further hone and prioritize the recommendations.
Coordinate with providers with communication tools and plan benefits in one place
Instead of having to hop between platforms and tools to communicate with providers and patients, care teams using Arine have all the information they need in one place. They can quickly generate reports and patient- or provider-friendly communication at the click of a button.
The bottom line
Comprehensive medication management goes beyond addressing patients' adherence to their medications or reconciling medications and simply completing a review. CMM services focus on the patient as a whole, taking into account their medical history, their socio-economic status, and their behavior and beliefs in respect to their health. Plans and providers that implement an AI-enabled CMM program will see improved outcomes, reduced cost of care, and a return on their investment.
Read our white paper to learn how AI-powered medication management solves healthcare challenges.